UPDATED GUIDE
: Adding/simplifying with current JD pics to better understand.
This new esper system is similar to a character ascension and consists of 3 steps. This is suppose to be comprehensive to allow a player to be unique and creative, but this is also very time consuming and expensive. I'd recommend taking a screenshot before and after since this is still new, so bugs are expected and we all know JD takes a while to fix.
Step 1.Ascension
Requirements:
-Your character must be an ascend character before even trying to unlock this step.
-Esper must be at least lvl 30...(Like comparing someone ascending a character at 135 instead of 150. Recommended is max lvl 35)
-Must kill Boss for
Esper Ascension Orb
drop.
http://jd.perfectworld.com/news/?p=788771
(As of right now boss rotations are glitched, also drop rate is low- gone full day of boss rotation with only 1 boss dropping orbs: only 2 orbs per boss).
-Keep in mind this isn't a 100% chance of success.
**You will see mainly the top 4 T5 neutral espers used but it can be done with lower tier and faction espers. Also it is a known and tested fact that the overall growth rate on those are: DeathWand<SinOrb<SoulScepter<Firmus. Regardless these still give the best growths compared to any other JD esper, which it is a good investment for the future if you do not already have.
Result:
-Drop in esper lvl, just like ascension you will need to re-lvl your esper but the higher your esper prior to ascension- the less drop in lvl (Level 35 drops to 28).
-You will notice 4 different immediate effect changes:
>In character menu it will glow like a +9 or higher refinement, also will now show primary skill and effects directly next to esper stats when hovered over in character menu.
>Esper outside physical appearance changes (Check Fusion below for reference).
>Skill bar color changes.
Esper skill bar changes:
Sinister Orb
Nimble Soul will now look green instead of ->
Red
.
Soul Scepter
Unparalleled Essence ->
Blue
Firmus Megabane
->
Purple
-Some might notice a small prefix change in the skill name.
-Increase in all base growths stats re-level to view changes. (HP/SP/ATK, Resistances, Green stats, and smaller effect changes).
**This is CritiKaL's Soul Scepter before and after ascension, note that this is not the full skill stats since it is just a screenshot from character menu not skill bar..so you can not see the full stats with the tome and accessory added.
Esper prior to ascension:
http://i43.photobucket.com/albums/e3...psbefecae2.png
**
TIP
: This is all impacted by your espers
PREVIOUS
state. The better the stats the higher the gain. You can bloodsmelt after ascension but only if your esper isn't already maxed prior to ascension.
---
Last edited by Kryx - The Billows; 02-27-2013 at

12:03 PM

.
Step 2. FUSION
(Will update with JD pics as soon as I get them).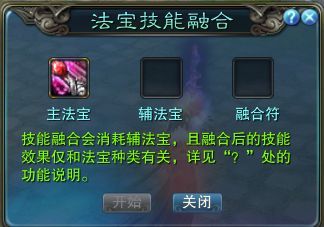 Requirements:
-2 Ascended espers. Primary and Secondary.
-Kill Boss which drops
Esper Fusion Manual
needed for completion.
http://jd.perfectworld.com/news/?p=788771
(Same boss info as in ascension).

**TIP:
This step requires both espers to be ascend and to ascend an esper, it needs to be level 30+. Here we get costly since for espers you can't equip to level will either need to be leveled by someone else or use the cash shop items instead.
Result:
- Secondary esper and fusion piece are destroyed.
- Changes in the amount and type of skill effects will be shown on your
MAIN
esper, you can either accept or reject the changes. If rejected you need to find a new secondary esper to try again. (Similar to using chi enhancers on a Soul Stone)
-Changes are random and range from at least 2 to a max of 8.
- A
new
esper appearance after 1st fusion. The one shown below is only unlocked if you get the max 8 effects on your esper.
*Starting from left: Original ->Ascension->Fusion +8
**TIP:
This method does not change your stats or main skill it is only to add/change multiple skill effects determined by the original esper. These effects are shown on your
MAIN
esper and will technically be bonus effects used by your main skill.
FYI:
To me this is the most annoying and expansive step and most people will choose to either go without it or wait a while before trying. You are essentially optimizing your main skill for your faction with this method by adding/changing/increasing your special effects. The problems lies in the fact that when testing this out it's relatively hard to get what you want or for it to be of any real actual use (Meaning there will be a lot of useless effects added instead of the one you want).
During testing in zx the actual rate of the effects actually going off are fairly low. You also need to decide for yourself which espers will give you the highest overall percentage of a certain effect, since many have similar ones. For example if you want to add the possibility of stun:
DeathWand Mental Peace and Anan's Secret all have stun.
At +5...

Deathwand has a 15%
Anan's has a 60%
Mental Peace has 8/9%
Looking at that you'd obviously assume to fuse Anan's, but will only stun for 600pts, as of now most people have a stun res 600+ therefore it becomes useless. Now looking at the other two..Mental Peace has the lowest percentage and lasts shorter then the DeathWand but being a level 105 esper, it is the cheapest. So overall DeathWand would be your best choice, you only need to pay more for it.
---
Last edited by Kryx - The Billows; 02-27-2013 at

12:02 PM

.
Step 3. INHERITANCE
Requirements:
- Ascended primary and (
Can be Non-Ascended
) secondary esper. No esper level requirement.
- Tome & Accessory of secondary esper (read below)
**TIP:
You can use other faction espers that are not of your faction.
Result:
- New ascended esper with a secondary skill.
- Secondary esper and any tome/accessory used are destroyed.
- As long as you have room to add, more skills can be added and chosen between. Max of 5 skills. (Right click to expand list.)
- This process can be repeated to replace any skills.
- This is not a 100% process it can FAIL
(As with many things in JD, nothing is a 100% unless it is clearly stated. Just like refinement some people will have higher luck then others and unfortunately, I have seen people fail both their 1st two tries).
**TIP:
This is for adding skills only, original stats and main esper skill will not change only the secondary skill you're adding is affected.
**
Futhermore!
JD needs to fix their site info, since what they posted in their previews is wrong.
You can NOT automatically inherit your secondary esper and get level 3.
It is physically impossible to inherit without tome and accessory...so only way to get level 3 is by using a level 1 esper with tome and accessory. That is a waste of money just to get a level 3 skill especially when using the T5 espers. For full benefit be patient and try for level 5, that way you only need to get your tome and accessory once.
This is Prince's Ascended esper with level 5 Firmus skill. Just like the inheritance pic shown above to add his LVL 5 Megabane skill he added a LVL 3 Firmus + tome and accessory. Whatever level esper used along with the tome and accessory, is what skill level your main esper will inherit.
(The main skill stats shown are not fused nor shown full stats with the tome and accessory).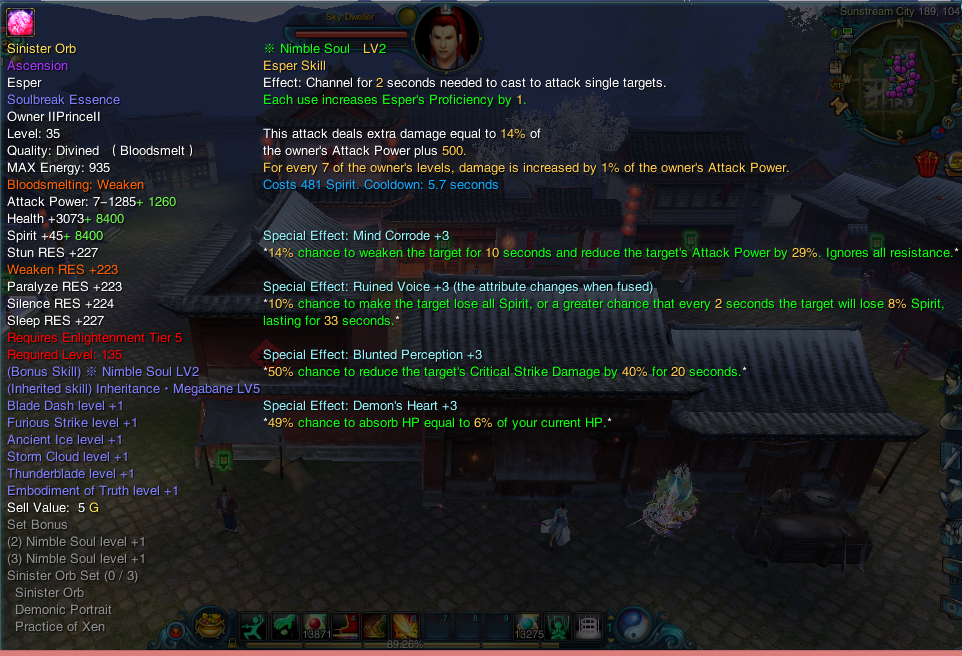 ---
Last edited by Kryx - The Billows; 02-27-2013 at

12:07 PM

.
is that for all espers or just those in the picture?
---
Last edited by Kryx - The Billows; 09-30-2012 at

02:26 AM

.
this is gonna be cool, looking foward
Quote:
Originally Posted by
Kryx - The Billows
The reason why it's these espers is because they are the strongest in game and come with high stats from the get go. Though if you notice...you do have the possibility of adding up to 5 diff. esper skills as a secondary. It's up to people to decide what will be most effective for them.
Soo.. that means i can't do this to my esper if I'm not using SO, DW, SS, Firmus?
(I'm using gem aquatica D: )
Dagos Jadeon|Felkin CelanYou might know me as: ladyvashj,yuko,nishiifox from whatever server you met me
I'm playing c9 and Aura Kingdom
Usui Takumi ♥
"Dreams are things that you make into reality"
---
Last edited by Kryx - The Billows; 10-01-2012 at

05:30 AM

.
do the espers need to be neutral espers or could i add a skill from another factions esper to my esper? also have u seen anything on this "Divine Pet" thing?
# 10
09-30-2012, 04:03 PM
When you use esper skill with a combined esper does it have both esper effects at same time?

Ex. If u have a firmus combined with a soul scepter: will it put dark injury and sp burn both on the target at the same time from one cast?

...and could you keep combining all espers ingame to make some beast esper that can sp burn, dark injury, chance of fasting, silence, skyseeker burn, etc all in one cast?
Come and play Jade Dynasty with me!
In USA-East The Billows, my name is SeventhQi. My Inductor ID is 2290079X042809085006340Z3eed22
---
Last edited by SeventhQi - The Billows; 09-30-2012 at

04:07 PM

.
| | |
| --- | --- |
| Posting Rules | |
All times are GMT -7. The time now is
01:58 AM
.