Administrator
Join Date: Mar 2011
Posts: 3,702
Greetings, disciples -- with the summer update, we'll be having another round of art contests. We're going to be doing a familiar wallpaper contest, but we're going to be spinning it differently.
This time, the wallpaper contest will be screenshots only.
You can Photoshop your screenshots however you'd like -- I want to see your graphic arts skills! -- but it's gotta be a screenshot at the base of the image. You can, of course, submit an un-Photoshopped screenshot too, that's totally fine.
(Remember that you can turn off titles and names in the Interface options!)
Similar to last time, we'll be having four winners, chosen in two waves of two winners each. At the end of it, I'll choose one grand winner from that group. The four winners will get a capsule pet or Esper, which I will send wherever you live in the world. The overall winner will get a Velonus mini-pet, permanent and G3. You've all seen the screenshots, you know how adorable it is.
The first two winners will be chosen from entries until Friday August 3, the second two until Friday August 10, and I'll choose the overall winner on Monday August 13.
If you prefer to make your art from scratch, though, you can join in on what I'm humbly calling "Art for Awesome."
For every single piece of original art we get during this event, I will donate $1 to charity.
I believe strongly in supporting good charitable organizations -- I have a whole bunch of personal beliefs about that, but the short version is that I feel it's important to give back. I want to give to charity, and I know the Jade Dynasty community feels as strongly about helping others as I do.
Details are below!
Yes, any piece of original art will trigger a buck, no matter how quickly you sketched it. This is for charity, I'm not going to skimp and say that an entry doesn't count.
-Any kind of original art will count, too. I think it was MrsIvey who submitted a quilted pet for a contest, and QuiYu had talked about submitting a video of him signing instead of doing a dramatic reading -- both of those would totally count. "Art" has a pretty broad definition.
-I, personally, will be providing the funds for this, in the name of the Jade Dynasty community. If there's a huge outpouring of support and art, I'll take the art around to my coworkers: "Look how committed our players are. Will you help match donations?" If players want to get involved as well with donations, I would be honored to help make that happen.
-Donations will go to
Sacred Heart Community Service
, located in San Jose, California. Sacred Heart is a secular organization that provides job training, food, clothing and more to people in need. They're actually gearing up right now to buy back-to-school backpacks for underprivileged kids, so your quick drawing of Bilu could buy notebooks and pencils for a middle schooler's first day of class.
For full disclosure, my father works at Sacred Heart. In helping him with distributions for Christmas and back-to-school, I've seen Sacred Heart's work, and I believe they're one of the best charities out there: both professionally run and kind and caring.
-Due to being a post-college student, I have to put a cap on how much I can donate -- one week's paycheck. PWE treats me well, though, so this won't be a small number.
Both contests can submit their entries here, so all art is welcome here! I look forward to seeing what everyone comes up with!
I'm not one to participate in these usually, However It being charity, I'll Begin drawing again. As For the Screenshot, I'll do one of those too. I'll Edit the drawing Into this In a moment once I'm done
Facebook Meh o:
My Dagos Rayan Build.(:
Inductor ID Code: 6760835X021002043002564Z4da1fa
Thederon's non-ascend Leveling Guide
Thederon's Ascended Leveling Guide
Hi, so this is a sketch I drew a while back. It is of a landscape I saw of China (saw an online picture of a landscape in China, never been there though). Someone once told me before I even named my picture that they thought it was of Jadeon in Jade Dynasty so I thought it would be a good submission for here. Hope you like it. I will try to work on another picture (hand drawn also) and also I will submit a new screenshot. I like drawing a lot, so I am submitting a drawing first, I will submit a screenshot a little later.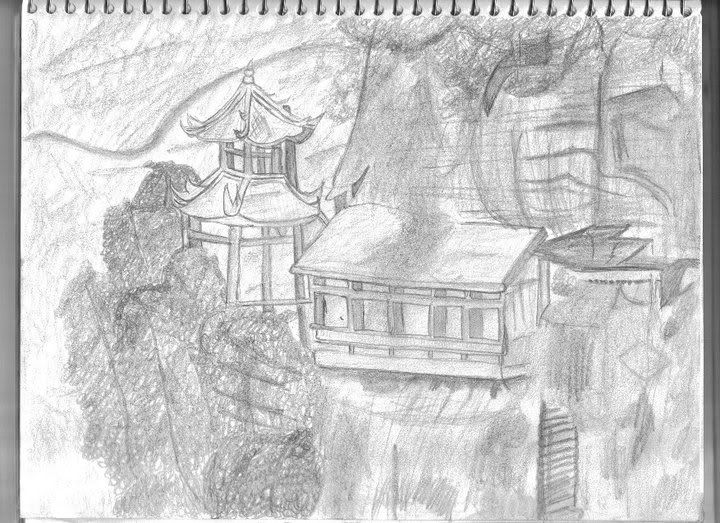 I hope Dr Cox doesn't misappropriate the funds into something else... or JD and Turk getting a highly needed chocolate fountain...
Sargeof Divine
Induction ID: 9650887X070009006000829Zcda2b2
Use my ID and you'll get advice and help from the great kahuna
Well i decided to re-post my screenshots from the last contest, because i have a feeling they were "lost" there :<
http://s019.radikal.ru/i643/1206/2d/032162a6de6d.jpg
http://s015.radikal.ru/i330/1206/d8/e77260cd7d8e.jpg
http://s019.radikal.ru/i603/1206/9c/30f581f8bc90.jpg
http://cs5965.userapi.com/u67442557/...w_77e2684a.jpg
And a couple of old ones:
http://s002.radikal.ru/i200/1207/1c/a1f42b955b78.jpg
http://i070.radikal.ru/1207/5a/4b16dccbb4e4.jpg
Hope u`ll like them
Though I already know who will win ;s
---
Last edited by Kiteshi - Shura; 07-31-2012 at

03:33 AM

.
Hi, so for the next picture I am going to draw a new one specifically related to Jade Dynasty. Since Velonus, Bilu and Anan seem to be popular, I am going to draw one of those three chars together with the Jade Dynasty logo in there. It will be in a black and white pencil drawn picture like the last picture I submitted. Working on it now, I should be done most likely by tonight or tomorrow (depends though). After this next drawing for the Art for Charity submission, I will work on a screenshot for the other one. I might also do more drawings, depends on my time though.
Quick question, trail... is there a limit to how many wallpapers each person can submit? Like one entry per person or whatever o_O
Chocokitty - 147 Dagos Celan - Sanctum Captain
Pyrokitten - 145 Fuwa Incense Mage - Sexy Alt
==> 0441835X084203056001864Z3feda2 <==
(be my inductee! enter the above ID for riches beyond your imagination)
Read my full induction thread!
Freedom is sweet.
Hi, so I thought I would put the initial sketch I am working on. So far, it only shows bilu, but I am going to add in Velonus and Anan and the JD logo. I will post the final picture later on, I just thought you would like to see the beginning stage of the drawing.
# 10
07-31-2012, 07:27 AM
| | |
| --- | --- |
| Posting Rules | |
All times are GMT -7. The time now is
04:54 AM
.